Iambik launches as a new Audiobook Publisher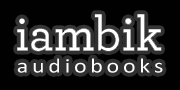 From the founder of LibriVox, the free public domain audiobooks community website, Hugh McGuire heads up this new venture, Iambik Audio (Visit iambik.com). Working together with authors, narrators and print publishers, they work on a predominantly rev-share basis to record both new and old books, many of which have been overlooked by the traditional audiobook publishers.
This looks like a really great service and best of all, their recordings are free from DRM and are released at very competitive prices of between $5 and $10. Currently their selection is quite small but they have titles from authors such as Gordon Lish, Felicia Luna Lemus and Pulitzer Prize finalist, Lydia Millet.
According their press release (Iambik launch Press Release), "Iambik aims to change the way commercial audiobooks are made [offering] hand-picked collections…a little off the beaten path…with no digital rights management—meaning they can be played on any computer or mobile device."
There's no mention about distribution rights but all their current titles have been marked available "Worldwide". Let's hope they continue to have no restrictions for those of us outside North America.