Pandigital release their Second Novel eReader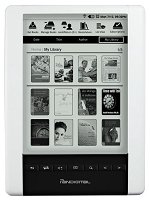 Better known for their photo-frames, Pandigital is trying for the second time to break into the eReader market (Pandigital eReader Press Release). Their first attempt; a full colour 7-inch touch screen reader, was beleaguered with poor performance and an unresponsive touch screen.
Their new model, the Novel Personal eReader takes a more traditional approach, using a 6-inch E-Ink touch display, WiFi connectivity , built-in speakers, on-screen virtual keyboard, and as with their previous eReader they've integrated the Barnes & Noble store for direct eBook access.
It's as yet uncertain how the reader will perform, though as they use only E-Ink, the need for a super responsive touch screen is less necessary and as they are using their own unique User Interface, this could be an interesting eReader.
Due to the fact that they have teamed up with B&N and that their pricing is given in USD ($200 retail) this eReader will likely not be available outside the U.S.
Still, if Pandigital produce a hit then they could well decide to move into other regions where there's certainly plenty of demand and a good choice of eBooks stores to replace B&N.
engadget.com has a small gallery of images for the Novel Personal eReader here.