Another Sony Reader released: PRS-T3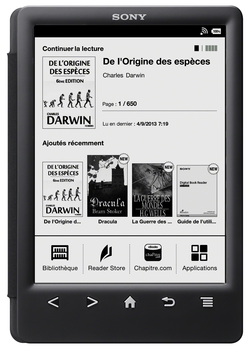 Sony are still at it. Delivering regular updates to their line of Reader digital book gadgets. Considering how often they release new versions they don't seem that bothered about promoting the damn things. According to Endgadet.com, Sony pushed their new gadget off into the furthest corner of their stand at IFA 2013.
From the looks of things this new device has some interesting features. There's the new Integrated Cover, Retractable Light, and a (3 minute) Quick Charge feature, which apparently will give enough charge to read a full novel. Other than that there's nothing too much to write home about. It weighs 200g, has the E-Ink Pearl anti-glare 758x1024 display, and does a full change in a couple of hours or so. Read the full press release here.
I've not owned a Sony Reader since their Touch was released in 2009…wow, has it really been that long! I'm not convinced by the integrated cover - I haven't used covers on any of my readers/tablets for several years now, or the light - but I am tempted to try out the T3. Perhaps I'll have to take a visit to my local electronics store once it's in stock and give it a go.
Have you given the T3 a drive? I'd love to hear what you think of it in the comments below.