U.S. eBook Sales 2002 to Q1 2008 Overview
For my first post I thought I'd take a look at the current eBook sales. eBooks have been around for quite sometime but since seeing the introduction of the E-Ink Readers in the U.S. the sales of eBooks have risen quite considerably.
Below is a chart released by the International Digital Publishing Forum (IDPF) which shows the U.S. eBook Sales since Q1 2002.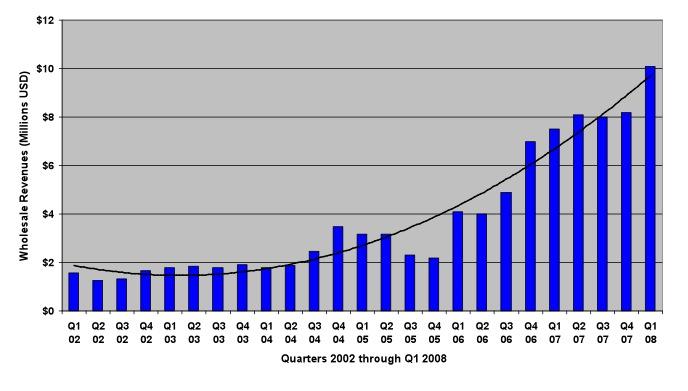 Note: The data above represent only trade eBook sales via wholesale channels. Retail numbers may be as much as double the above figures due to industry wholesale discounts.
For the full IDPF info on this chart please visit the IDPF website; (International Digital Publishing Forum).
You can clearly see an increase starting at the end of 2006. For the first time in Q1 of 2008 eBook sales broke $10,000,000 - small change compared to the Billion dollar paper book sales, but we are moving in the right direction.
The boost in Q4 2006 is believed to be a direct affect of Sony releasing their Reader PRS-500, the next boost in Q1 2008 was likely due to Amazon (regularly) shipping their Kindle Reader.
I've yet to find any data for the UK but with the recent release of the iPhone and the upcoming Sony Reader, we are likely to see a similar increases here over the next couple of years.
There are not many eBook stores in the UK at the moment, the most notable being W.H.Smith, but the upside of this should be that in the future, we will see more UK stores selling eBooks.